Office of Technology Transitions Success Story – SPARK Cleantech Accelerator Bolsters Innovation for Tennessee Region
Energy Program Innovation Clusters Success Story 
Introduction
The University of Tennessee's (UT) SPARK Innovation Center, part of the Heartland Climate Tech Partnership, supports more than 15 cleantech startups per year. SPARK Innovation Center was first awarded a $50K award from the Office of Technology Transitions' Energy Program for Innovation Clusters (EPIC) in 2020 to launch operations (check out our conversation with their team in 2021). They received an additional $300K EPIC award in 2021 as part of the Heartland Climate Tech Partnership, which allowed them to launch a new cleantech accelerator for the region.
In the first two years of operation, SPARK startups raised over $34M in follow-on funding and created over 46 jobs across 2 incubator cohorts and 1 accelerator cohort. The SPARK team saw an opportunity to take advantage of the existing resources in the region, citing Oak Ridge National Lab, UT's research ecosystem, and electric utility Tennessee Valley Authority. According to a 2021 whitepaper by cleantech venture capital firm, Saoradh Enterprise Partners, LLC, Knoxville is rated in the top 20 cleantech hubs in the country.
The Origin of SPARK Innovation Center
Tom Rogers is no stranger to the Department of Energy. Before becoming the Director of the SPARK Innovation Center, he led the Innovation Crossroads Program at Oak Ridge National Laboratory, a two-year fellowship program for innovators focused on energy and advanced manufacturing technologies funded by DOE's Advanced Materials and Manufacturing Technologies Office. He started the SPARK Innovation Center in 2020 and saw an opportunity to build out the ecosystem, "If I could get these bright, young, motivated innovators as they finished their fellowship to agree to build their companies at the Research Park and stay in Knoxville…what a great way to jumpstart the research park!"
Rogers' team supported 9 companies in the first incubator cohort, and quickly saw the potential to expand. They won another EPIC award in 2021 through a network of organizations called the Heartland Climate Tech Partnership that enabled the team to launch the SPARK Cleantech Accelerator. "We were able to see that the resources we have here in our region are appealing enough to reach a broad spectrum of geographies across the nation," Rogers reflected, noting that their first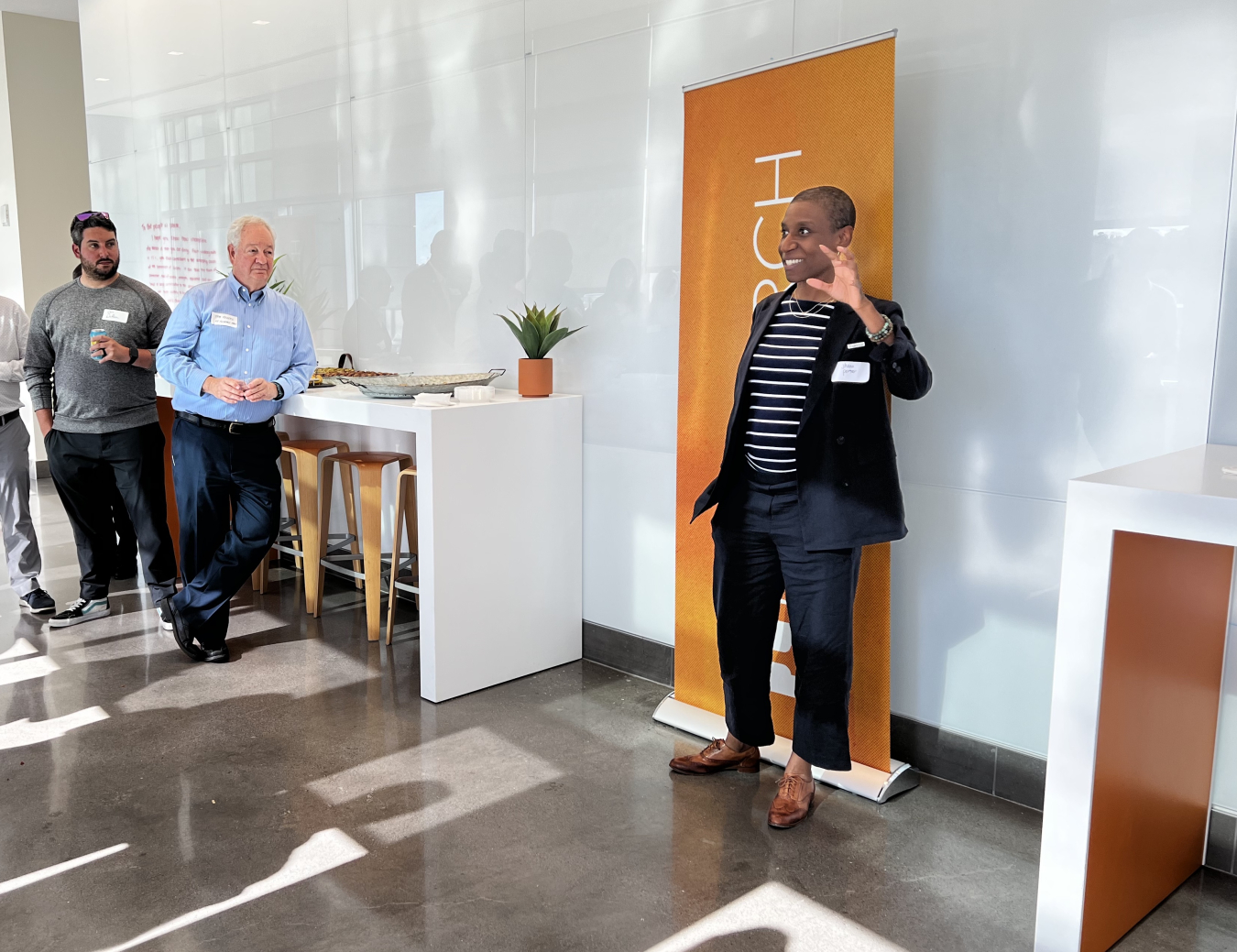 Frakktal Founder Jhana Porter pitches her company at the Spark Cleantech Acccelerator Opening Reception.
The Need and Opportunity in the Region
Lilly Tench joined SPARK Innovation Center as the Director of the Cleantech Accelerator because she saw a specific gap in the ecosystem, "What we're doing is providing something particularly unique for the region because we have a lot of technology innovation in this area – we have a national lab here, a major research university, and the largest public utility in the nation. There is so much research and innovation happening, and many teams are spinning out into companies. But, because of their early stage, they still need access to mentorship, they need access to lab space, materials and equipment…if they can't find those things they need to grow here, then we lose them from the region and that is a major loss for economic development, for research, and all of the incredible opportunities to partner with the existing resources in the area."
Milestones Achieved & Lessons from Launching the Cleantech Accelerator
Since launching in 2020, SPARK has supported 2 cohorts in their incubator program and 1 cohort in their accelerator program. The team has built out an impressive set of services and offerings for startups participating in the incubator or accelerator. In addition to office space, the SPARK team provides startups with access to prototype design and delivery resources through an arrangement with UT's Center for Materials Processing, to an energy mentor network through a partnership with the Tennessee Advanced Energy Business Council, and to a set of Entrepreneurs-in-Residence that are on-call for business counseling and mentoring. The SPARK Cleantech Accelerator has become part of the National Cleantech Incubator Association and has become a partner in Los Angeles Cleantech Incubator's Cleantech Debt Fund to be able to provide SPARK startups access to early-stage debt.
With three years of operation under their belt, the team also has many learnings to share. "You have to put the entrepreneur first. It's easy to get caught up in building a list of services for this and that, but you have got to meet the needs of your clients first," Rogers explained. He also reflected on the short timeline of the program, "Particularly when you're dealing with cleantech and hard-tech companies, 12 weeks is not a long time. So, one of the questions we have really focused on in the selection process is asking what the team will accomplish in 3 months. The people who got selected always had a clear answer."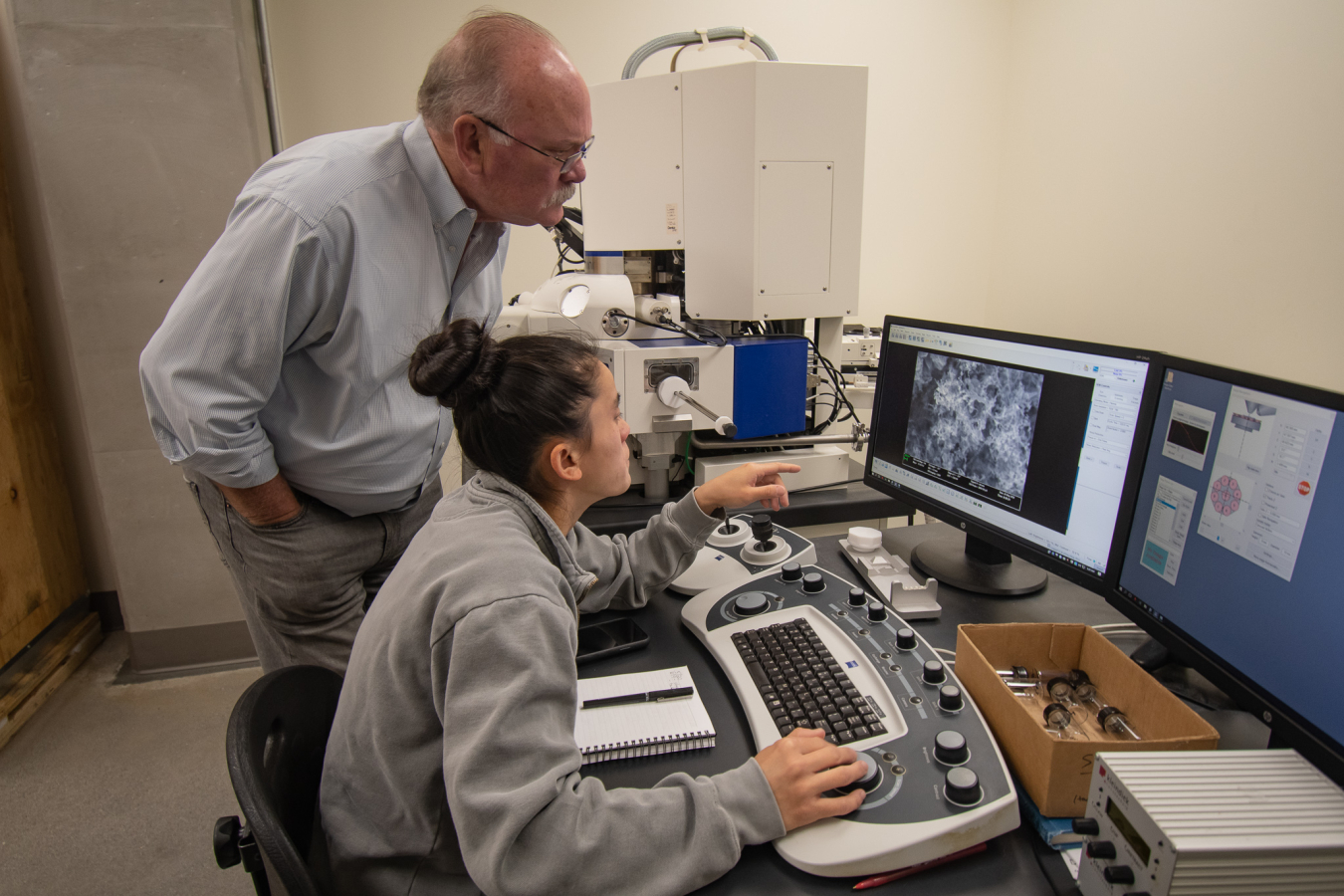 The Spark Innovation Center Director, John Bruck, advises a Spark Company
Looking Forward
The team is busy working towards the start of the second cohort for the Cleantech Accelerator on August 21st. Diversity and inclusion is a strong focus of the accelerator, and the majority of the upcoming cohort includes diverse founders, which the team noted is particularly rare in clean tech and hard tech. This year, the team has also decided to join forces with the Oak Ridge National Lab's Innovation Crossroads Program and share programming. SPARK will be supporting 13 teams across their second accelerator cohort and the Innovation Crossroads program.
Another focus for the future is lab space. Time and time again, applicants indicate lab space as being the priority need. "These aren't companies you can start in a coffee shop or a garage, so we've embarked on a mission to build our own standalone SPARK laboratory," Rogers said. The team received funding from Appalachian Community Capital and is working on designing a 50,000 square foot incubator facility that has wet lab space, open-office space, and plenty of collaboration space. Longer term, Rogers thinks this facility will be mission critical to expanding the ecosystem, "Between the SPARK incubator, the Clean Tech Accelerator, and Innovation Crossroads, we're bringing 30 startups a year to Knoxville. And if we have space for them, we can really put Knoxville on the map."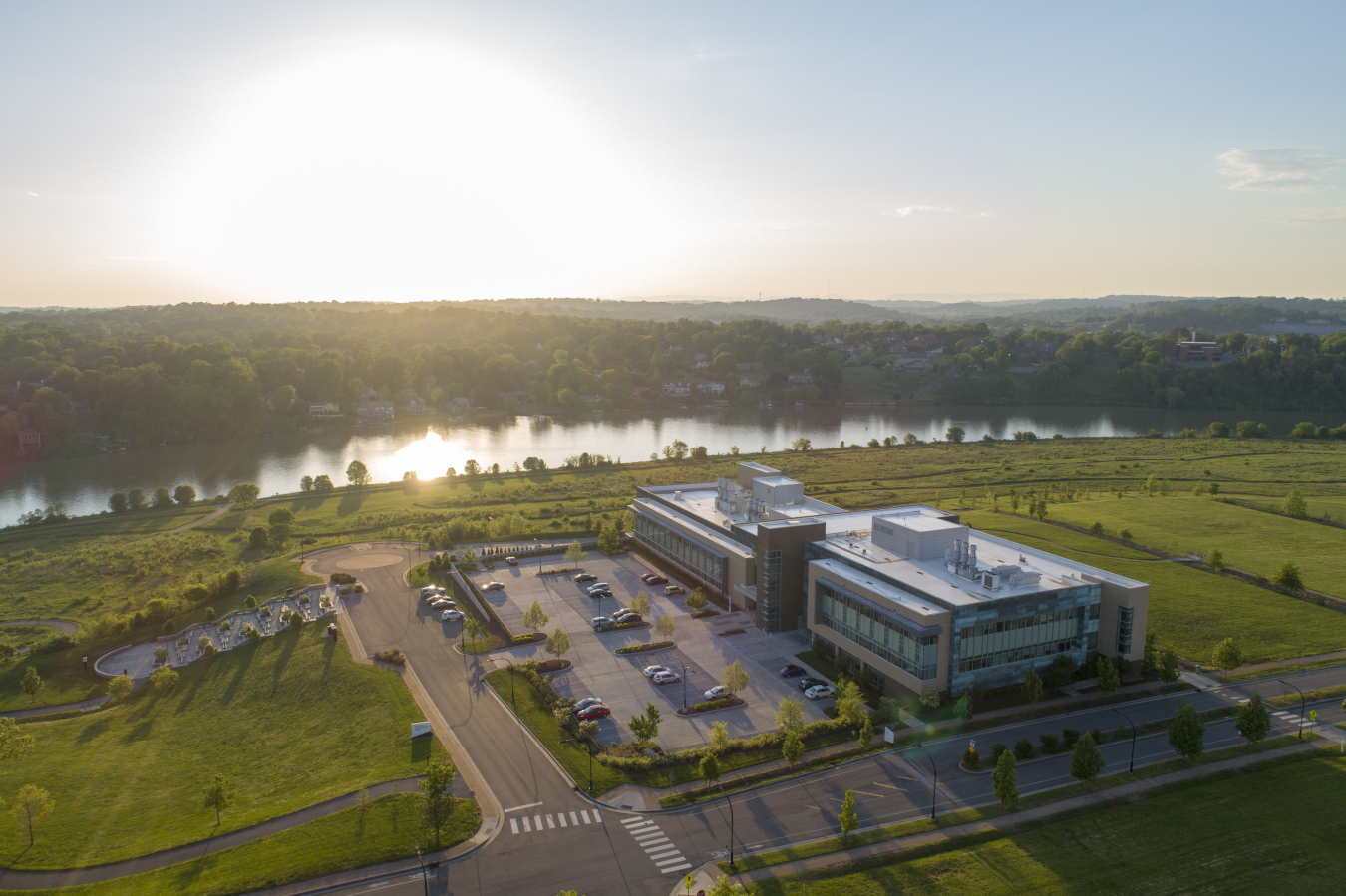 The Spark Cleantech Accelerator is housed at the University of Tennessee Institute for Advanced Materials & Manufacturing in the UT Research Park at Cherokee Farm.
The Energy Program for Innovation Clusters (EPIC) Prize recognizes the nation's most innovative incubators. Sponsored by the U.S. Department of Energy Office of Technology Transitions (OTT), the EPIC Prize awards cash prizes to regional incubator teams that submit the most creative and impactful plans, then implement those plans to develop strong clusters, connections, and support for energy startups and entrepreneurs. To learn more, visit Energy Program for Innovation Clusters | Department of Energy.
To learn more about the SPARK Innovation Center, please visit Spark Innovation Center | The University of Tennessee Research Park at Cherokee Farm (tnresearchpark.org).
https://www.energy.gov/technologytransitions/articles/spark-cleantech-accelerator-bolsters-innovation-tennessee-region